First of all, thank you for the kind words, thoughts, and prayers being sent for my dad. He is doing ok, but is refusing his PT, and still hates the food he's being served, which is making it difficult for him to gain weight and get stronger at all. We are trying to figure out a plan moving forward that he will agree to, and hopefully shine some light on the situation. I really can't blame him for being upset with the food. If you have told someone 59 times that you don't like wheat bread and your 60th sandwich came on wheat bread again, would you be upset? I would. He's a picky eater but needs to gain weight. Please make a smidgy bit of effort to bring him what he's requested on the menu. Ugh.
On another note, Morgan has performed three times now at the beginning of this crazy dance season.
First up was a performace at UMD for a fund raiser for their danceline program.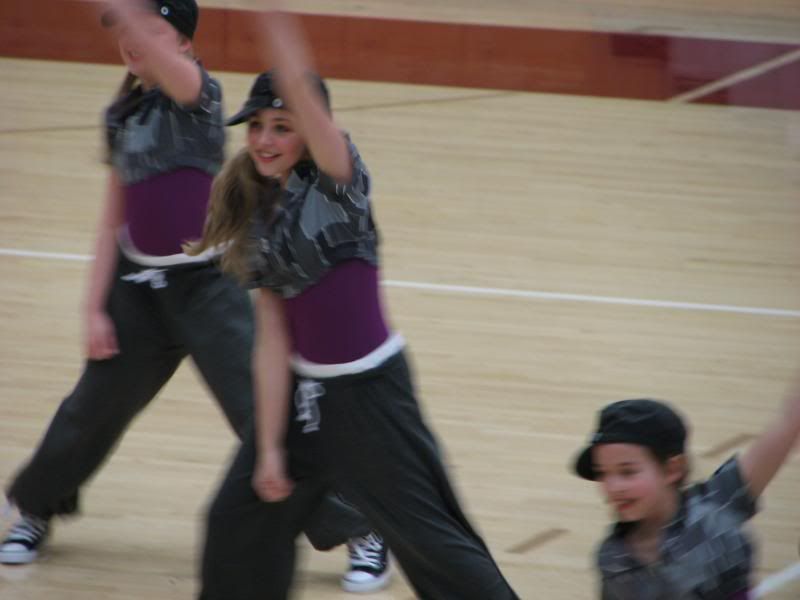 Our girls performed their hip hop dance. It's always nice to have a few dress rehearsals before they have to compete it.
Now, I'm no dance teacher and certainly couldn't do this any better than they did, but I'm pretty sure everyone is supposed to have their arms in the same position at the same time in this picture. :)
Next was the first competition of the season!
Oops. Mascara goes on the lashes and not the nose. Noted.
Morgan, Adrea, and Cassie before they each performed their solos! These are all Danielle's girls!!
Some celebratory wings, burgers, and beverages after these two both took first place!
Then another fundraiser, this time for the Denfeld danceline program.
Waiting for the music to start.
And GO! They move very fast in this dance, it's hard to get clear pictures. Some day I'll be good at taking dance pictures. Probably the year after Morgan is done dancing.
Get on down!
Great job, as always ladies!
Now we have a break from performances for a few weeks, and then two competition weekends in a row. One in Minneapolis, and another in Duluth. So exciting! In the meantime, I'll be sewing sequins and gluing rhinestones onto costumes. And loving every minute of it!
XOXOX
NH